How and why did I get involved in the Zawiercie web site?
WhatsNew:
Zawiercie Web Site
December 1, 2014
The Zawiercie web site was redesigned. The new version includes all the material that was presented in the older version with additional pages.
The current history page includes new essays and references about the history of Kromolow and Zawiercie in general and in particular the history of the Jewish community.
The web site is work in progress and we will be happy to receive photographs, stories and data of the Jewish life in Kromolow and Zawiercie.
CurrentNews:
Zawiercie Jewish Cemetery
Restoration Project
Dec 26, 2014
Dear friends,
I finally organized all the pictures I could  find and I created a site on my Facebook page titled "Zawiercie Jewish Cemetery Restoration Project." 
 As regards the cemetery, Marcin Bergier was very busy this year clearing the vegetation and smaller trees as well as the area at the entrance behind the two buildings either side of the gate. He also contacted the city to empty the garbage can behind the carriage house.   I have also sent him a chainsaw, which he plans on using next year to  take down some of the smaller trees...  One of the most difficult issue we are dealing with are the two buildings on either side of the entrance gate.  The one on the left is the carriage house and the one on the right is where the caretaker lived and the bodies were prepared for burial.  These two buildings have serious structural damage...  If we don't get some serious money,  the two buildings will likely have to be torn down.  If anyone has any idea about a charitable organization we can contact to get a grant, please let me know.
Please forward this note to anyone I may have missed. 
Thank you,
Joe Greenbaum
RecentEvents:
December 2, 2014
On Tuesday April 9, 2013 Joe Greenbaum send email to a group of people that have an interest in the town of Zawiercie:
"Dear Friends and Family, I would like to inform you that the city of Zawiercie is planning to commemorate the 70th Anniversary of the liquidation of the Zawiercie ghetto on Thursday, August 29, 2013. Attached, you will find the invitation and a preliminary program schedule. "
The event took place on August 29, 2013 and Heidi Urich shared with me her experience:
"I attended the Zawiercie commemoration and found it to be a very worthwhile experience. I was particularly moved by the procession from the marketplace at the edge of the ghetto to the train station. In addition to town officials, there appeared to be a great many town residents who joined us as we walked about a mile on the route our family members were forced to take as they were being deported to Auschwitz. A large plaque commemorating the Jewish community was unveiled at the train station opposite the tracks in a solemn ceremony. This was followed by another ceremony at the Jewish cemetery. "
How and why did I get involved in the Zawiercie website?
My grandmother, Chana Arieli-Kaluzynski nee Sznajderman, was born and lived in Zawiercie. Her parents, one of her brothers, and other relatives are buried in the cemetery in Zawiercie cemetery. Their graves are standing there among other graves as a memorial to the Jewish life in the town before WWII.

My grandmother's dream was to immigrate to Israel, and in 1906 she left Zawiercie for Israel. Two of her brothers, Dawid and Shlomo, followed her with their spouses, Malka and Rachel Hampel. A third brother and his wife, Israel and Szyendel nee Markovitz, followed a couple of years later and stayed there for a short period of time. Her sister, Rywka Paisak nee Sznajderman, also joined her family few years after that.
My grandmother was a storyteller and liked to talk about her youth, about Zawiercie, and about her new life in Israel.  Unfortunately, we, her grandchildren, weren't attentive enough to her stories. We started to appreciate them too late in her life when she was old and didn't have much energy to talk and be recorded.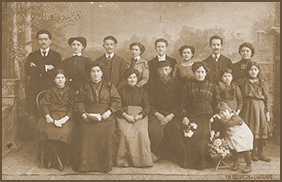 Zawiercie, 1906 - The Sznajderman and Hampel(?) families
Grandmother was the only one to share her stories; her brother Dawid never uttered a word about the place.  Those were not stories of nostalgia and yearning for Zawiercie. The anecdotes were engulfed by memories of pogroms and dark experiences.
The following paragraph is a quote from a letter sent to my grandfather after WWII. The author of the letter is a nephew of my grandmother, the son of her oldest brother, Abraham Moshe Sznajderman.
I don't remember Uncle David (Sznajderman). I can't recall how he looked, but I do remember that he was a good painter.  I do remember that in the grandma's room [Eigda Sznajderman nee Sztatler], above her bed, was a big picture of Gorki, the writer, which was painted as far as I know by Uncle David.  I also remember, but only from grandma's tales, that in Zawiercie, by the Blanowska St., hooligans had stabbed Uncle David with knives.  I wonder if he remembers that. 
There are people from Zawiercie who wrote in "Zawiercie Yizkor Book" about their passionate love for the town, like the superb chapter by Pinchas Erlich, where he almost sings about every charmed corner in Zawiercie and about its Jewish life.
For me, creating the Zawiercie website, searching for people who are also linked to Zawiercie, searching for records, photos, stories and memories about the town, and translating Zawiercie Yizkor book are links to the roots of the family in this small place in Poland.
The goal of the Zawiercie website is not only to detail the history, geography, and demography of Kromolow and Zawiercie but also to bring together the stories and photos of the Jewish people who survived the Holocaust in Zawiercie. The site will include links to vital records on other sites, and hard copies of records on sites not yet explored by the main genealogy organizations: Jewishgen.org and CRARG.org.  Most importantly,  it will include links to books, memories, stories, and photos published in various books and other websites, as well as hard copies of photos and stories published here for the first time. Below are links to families who have already shared with us data and photos.
If you lived in Zawiercie, if you are descendant of Zawiercie family, or if your relatives lived in the Zawiercie Ghetto during WWII and your story and or photos are not yet published and you want to share them with us, please contact me at ruthwilnai@gmail.com.